An eventful night of pro wrestling ended with Bobby Lashley standing tall over Drew McIntyre. The last chance Hell in a Cell match closed out a PPV littered with significant moments, but the main event was a controversial one.
Bobby Lashley takes down Drew McIntyre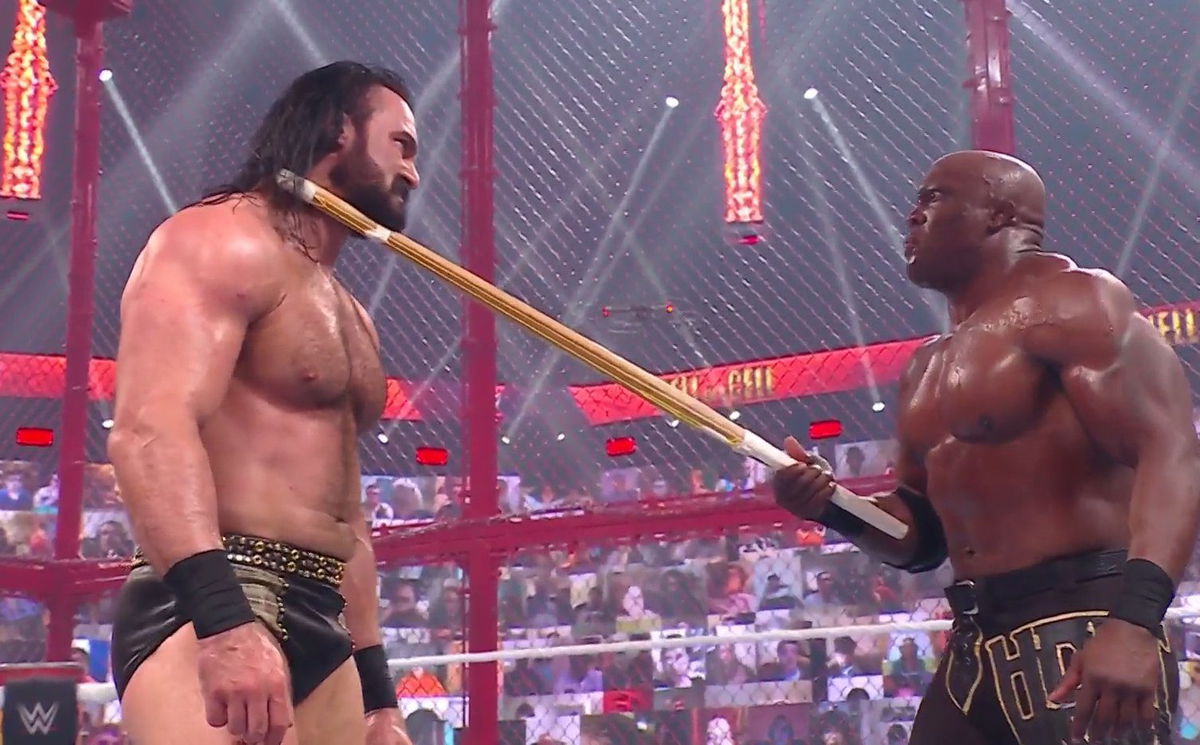 Lashley and Drew would not feel each other out in the beginning, and immediately took the fight to one another. McIntyre displayed the clear advantage in this match, especially since he's competed inside the cell before. As for Lashley, he showed the resilience and the spirit of a true WWE Champion.
The match featured some wild moments as it progressed. MVP passed his cane to Lashley, who used to soften up the challenger. When MVP's cane didn't do the job, he reverted to the basic kendo stick; simple yet painful. He brutalised McIntyre, but the challenger wouldn't stay down for long.
Q: How does one break the #HurtLock? #HIAC
— WWE (@WWE) June 21, 2021
Fighting out of every predicament like a true warrior, Drew McIntyre showcased the fine spirit that helped him beat the Beast, Brock Lesnar for the title in 2020. To counter out of the Hurt Lock, McIntyre fell backwards and drove Lashley through a table. To make matters worse, he even hit an Air Raid Crash on top of the steel steps.
It's been a wild ride. I've always wanted to make all of you proud, and I hoped that you would get the chance to see me live and in person as WWE Champion. Looks like that dream is on hold for awhile. Thanks for all your support. #HIAC pic.twitter.com/RQgCWkOC2c
— Drew McIntyre (@DMcIntyreWWE) June 21, 2021
In the end, with both men spent, the challenger hit a desperation Glasgow Kiss, followed by the Futureshock DDT. As he attempted to nail Lashley with a match-winning Claymore, MVP grabbed his leg, distracting him and allowing Lashley to recover. The WWE Champion rolled up McIntyre to deal him the biggest loss of his career at Hell in a Cell.
Watch this story: WWE Superstars Who Climbed the Hell in a Cell Structure
What's next for Drew?
While the unfortunate ref bump might've cost him a chance at the WWE Title, this loss is a boon for McIntyre. Yes, you read that correctly. After more than a year at the top of WWE, it's time for Drew McIntyre to slip a little further down the card.
Since WrestleMania 36, Drew McIntyre has taken part in a plethora of WWE Title matches. In 2021 alone, McIntyre has taken part in seven title matches, four as champion and three as challenger. Believe it or not, the WWE Universe needs a break from seeing Drew in the title picture, and Drew needs some time to find his footing once again.
One can speculate about his future on Raw and whether he should switch to SmackDown. However, the most important thing to focus on is building Bobby Lashley as the most dominant heel champion in WWE right now. The only thing separating Roman Reigns and Lashley in the quality department is his feud with McIntyre. Now that he's cut himself loose from it, he can truly flourish.
Read more: Has The Undertaker Ever Beaten Brock Lesnar in WWE?
The post Another Weak Finish! Bobby Lashley Ends his Rivalry with Drew McIntyre at WWE Hell in a Cell appeared first on EssentiallySports.