What a hellacious way to kick of WWE Hell in a Cell 2021. Bianca Belair beat Bayley in a gruesome Hell in a Cell match to retain her SmackDown Women's Championship. Although the stipulation was a last-minute addition, Belair vs Bayley featured some insane spots.
Bayley ties Bianca Belair's hair to the bottom rope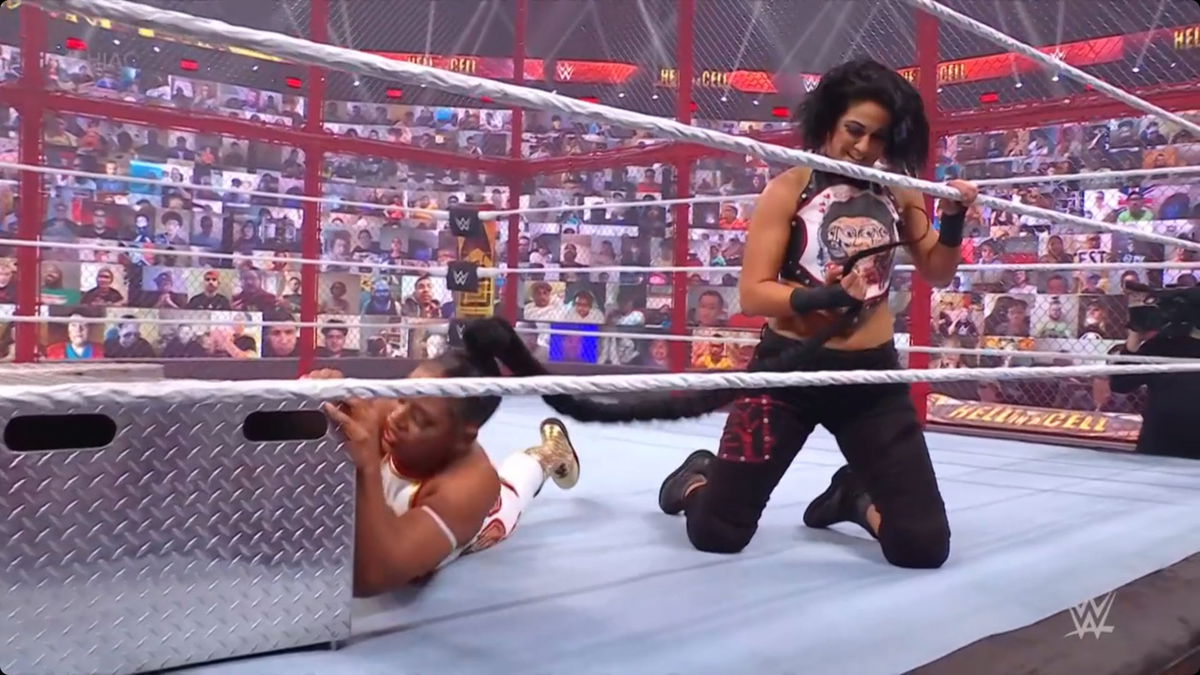 Bianca Belair has used her signature braid to her advantage in many matches. It acts a fifth limb which she uses to maim her opponent, and most recently she utilised it against Sasha Banks at WrestleMania 37.
Inside Hell in a Cell, Belair's braid almost led to her doom, as the challenger tied it to the bottom rope. Bayley would tie Bianca's braid to a steel chair as well, and she sat on it. Fortunately, both instances ended poorly for Bayley as Belair prevailed.
Bayley chomps down on Bianca Belair
ANYTHING goes inside #HellInACell.
#HIAC @itsBayleyWWE pic.twitter.com/AEiJ29amhc
— WWE (@WWE) June 21, 2021
The SmackDown Women's Champion took the fight to the challenger, but her arm became a target for the challenger. Bayley tried to separate the arm from the socket by smashing it against the ring post and the turnbuckle, and followed it with a vicious bite.
The bite sent Belair reeling as she retreated from the challenger. To her misfortune, Bayley continued the attack with a brutal looking sunset-flip powerbomb into the cell wall.
Bianca Belair hits spinebuster through kendo sticks
THIS is the kind of thing that makes #HellInACell UNFORGIVING.#HIAC @BiancaBelairWWE
Stream on @peacockTV

https://t.co/bxrJZeU4gL pic.twitter.com/y7uX4KI9wu
— WWE Network (@WWENetwork) June 21, 2021
Kendo sticks have become a staple of Bayley's Hell in a Cell matches. Last year she tried to maim Sasha Banks with kendo sticks and even engineered a dangerous structure within the cell with the sticks.
Unfortunately, jamming the kendo sticks between the ring and the cell wall would come back to bite her. Belair hit Bayley with a thunderous spinebuster through the kendo sticks, nearly destroying Bayley's back in the process.
Watch this story: WWE Superstars Who Climbed the Hell in a Cell Structure
Ladder plays a role in the finish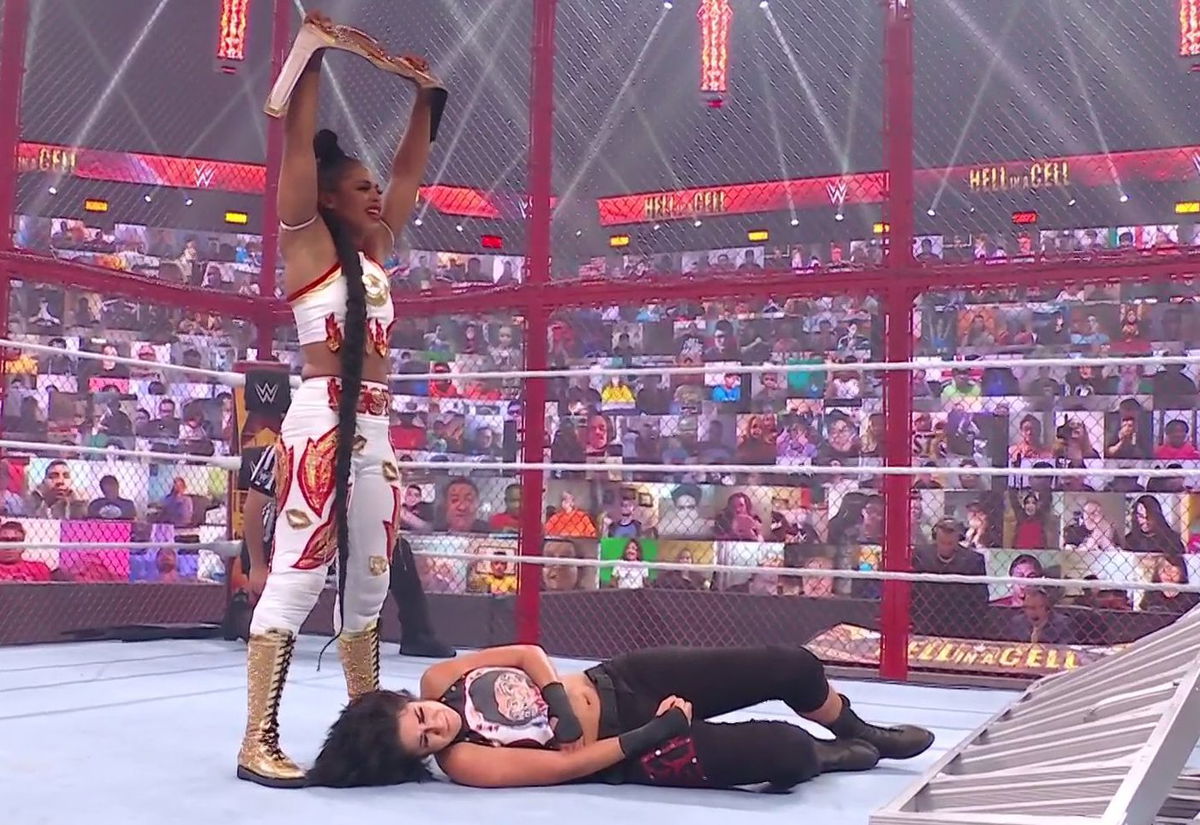 Like last year's Hell in a Cell match, a ladder emerged as an efficient weapon. Bayley once again almost won the SmackDown Women's Championship after she trapped Belair between the ladder and connected with the Rose Plant. To her misfortune, her knee landed on the steel and the time she took to recover allowed Belair to get back to her feet.
Bianca Belair is so fkn amazing !!! And Bayley of course respect !!! #HIAC
pic.twitter.com/hIYXFcr9lB
— Meli (@AnaMelissa15) June 21, 2021
Belair would use the ladder to her advantage and picked up the win with its help. She placed Bayley on the ladder and attempted a foot stomp, but Bayley got out of the way. However, Belair followed it up with a devastating senton on Bayley through the ladder.
Belair followed it up with the KOD through the ladder to pick up a huge win at Hell in a Cell.
Read more: WATCH: When Roman Reigns Destroyed Mark Henry With a Devastating Spear Through the Steel Barricade
The post Craziest Moments From Bianca Belair and Bayley's Hell in a Cell War appeared first on EssentiallySports.