In the face of elimination, the Philadelphia 76ers, and Atlanta Hawks met in an intense Game 7 of the Eastern Conference Semifinals. With the stakes sky-high, both fought to keep themselves alive in the playoffs. For the Hawks to come this far, let alone stretch the game to 7 against the top-seeded team was a surprise in itself. But then to go ahead and win this matchup was another ball game altogether.
Atlanta Hawks put the nail in the coffin
However, it seems like this is the year Atlanta Hawks make their name relevant in the NBA again. And when a team can defeat the Ben Simmons and Joel Embiid duo, they're already on the list of tough competitors. Let's take a look at how the Hawks pulled this off.
Looking at the first quarter of Game 6, the result seemed obvious. But Philly overcame a double-digit lead to force another game. It is their bench players who stepped up on so many occasions. Tyrese Maxey boosted the 76ers in Game 6 and it was Shake Milton in Game 2.
But when it came to it in the final battle, the Sixers fell to the Hawks. They were relying on a big performance from Trae Young but even without it; they were just the better team on the court. Philly didn't have a very healthy roster either, as Embiid himself had missed games on occasions.
WATCH THIS STORY: Most Controversial NBA WCF Ever: Kobe Bryant's Lakers vs Sacramento Kings
What went wrong for the 76ers?
The 76ers turned the ball over more often than not but they tried to recover from their deficits. This time they started the game and had the Hawks trailing, but this matchup was nothing close to ordinary.
They fought to keep leads as Joel Embiid ended the night with 31 points and 11 rebounds. Along with Tobias Harris who put up 24 points and 14 rebounds on the scoreboard as well. Nevertheless, their stellar performances could not withstand the Hawks' force.
It was the second quarter that changed things around for the Hawks and Kevin Huerter became their lead scorer with 27 points. Young was right behind with 21 points and 10 assists to finish the game at 99-94.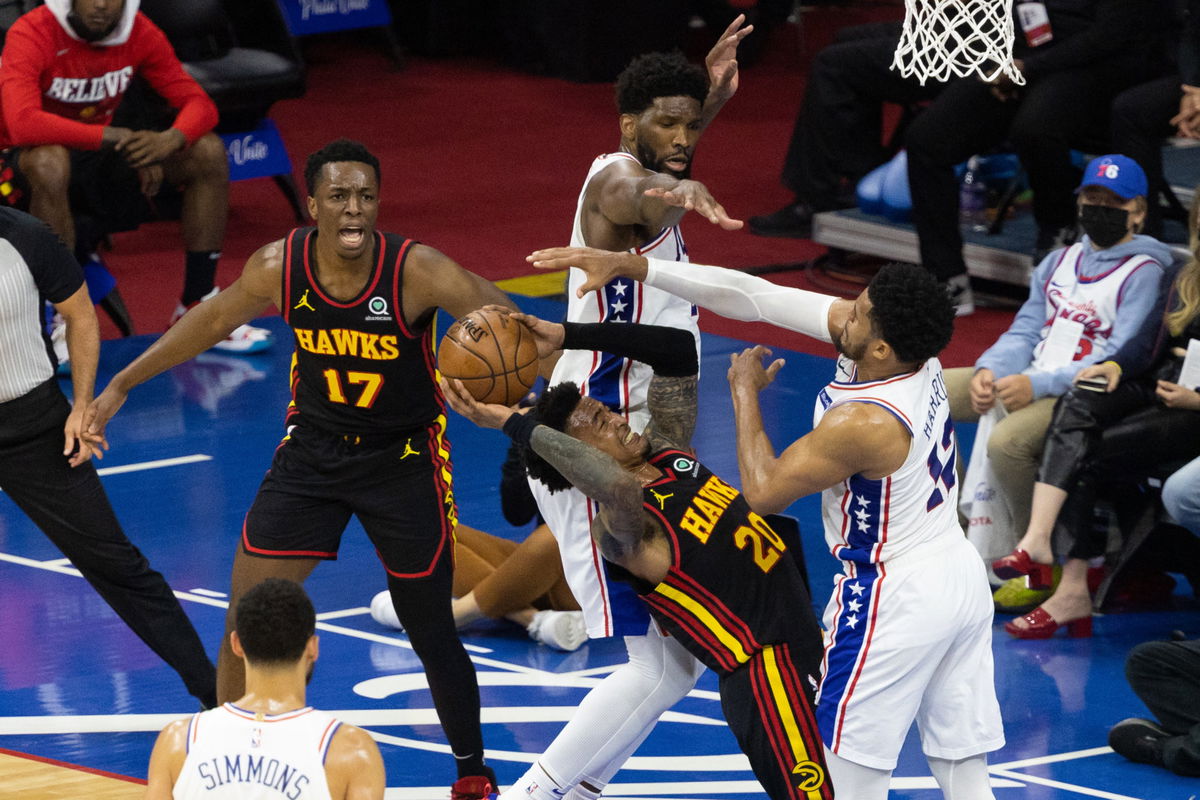 This season, the most unexpected teams have propelled themselves to becoming title contenders, instead of the obvious ones. As the 76ers leave this arena with their heads done, the Hawks will now walk through the Conference finals door to find the Bucks waiting for them.
READ MORE: 'Stop Messing Up': Shaquille O'Neal Reminds 76ers' Ben Simmons From Where He Comes
The post Draymond Green, Isiah Thomas, & Others React to Hawks Knocking Out 76ers Following Game 7 Win appeared first on EssentiallySports.