The 2021 NBA Free Agency has officially arrived. And with the Lakers already making a big acquisition via trade for Russell Westbrook, all eyes are on the LakeShow to see how Pelinka rounds off this roster for the coming season. While the trade for Westbrook answers a few of L.A's roster gaps last season, shooting woes remain their biggest concern.
Focusing on surrounding their latest Big 3 with pure shooters and dominant bigs to round out the roster, Pelinka must act quick, aiming to nab veteran knock down 3-pt shooters for minimum contracts. Given their 10 open roster spots Pelinka has to get creative, given the Lakers cap-space.
For instance, L.A. now seems to be in the mix to acquire aging Heat unrestricted free agent Andre Iguodala this free agency. But, it may not come as a surprise to Laker fans, once they realise who Iggy's former representative was!
Andre Iguodala's former agent is current Lakers general manager Rob Pelinka. The two remain close and the Lakers are a team in play to sign him. https://t.co/g6PEhKtdkQ
— Arash Markazi (@ArashMarkazi) August 1, 2021
Read More – Miami Heat Make Two Major Free Agency Decisions Involving Andre Iguodala and Goran Dragic
Lakers pursuing Andre Iguodala
Miami, having declined Iguodala's team option for the 2021-22 season worth $ 15-million look to move on from the veteran forward. The 2021 season was quite rough for the former champion, as he only averaged 4.4pts/3.5reb/2.3ast a game, shooting the basketball at 38.3% from the field and 33% from 3.
The Heat are declining the $15M team option on F Andre Iguodala's contract for next season, making him a free agent, source tells ESPN.
— Adrian Wojnarowski (@wojespn) August 1, 2021
While Iguodala is by no measure the same player who won Finals MVP in 2015, he fits the veteran minimum requirements the Lakers have to offer. This may also be a likely acquisition, considering that Rob Pelinka was his former agent.
Read More – Prodigal Son Coming Home? Lakers Might Sign Former Star
However, contrary to the common notion that he would be a great fit this season, all Iguodala has to offer is championship experience. And on a roster with 10x conference and 4x champion LeBron James, it isn't a deal breaker by any measure.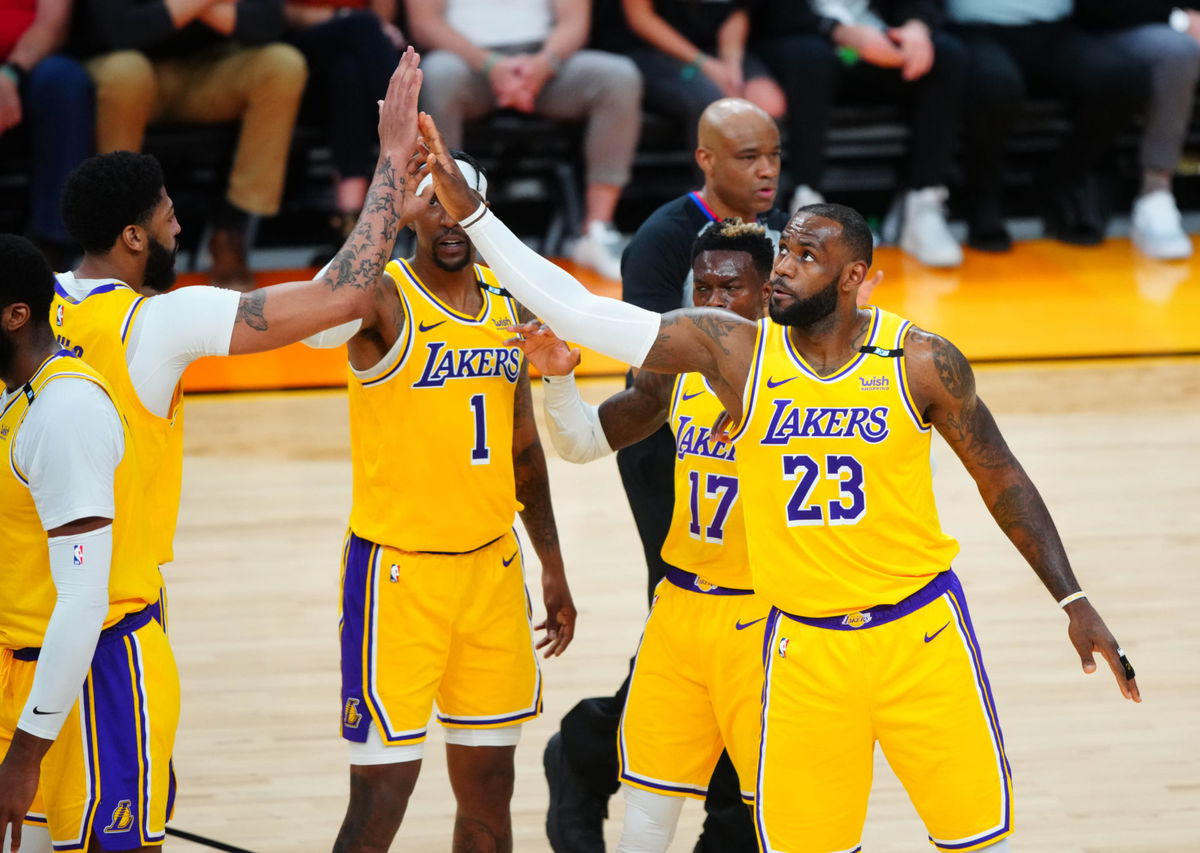 In conclusion, with the Purple and Gold primed to attract a high volume of veteran interest on vet-minimum deals, Iggy may not be the best answer for a team who is zeroed in on 3&D acquisitions this free agency.
Watch this story –  NBA Rumors: "Strong Disagreement" Within Lakers Organization on Russell Westbrook Trade 
The post REPORTS: Lakers in Contention to sign Warriors Legend appeared first on EssentiallySports.