Valentina Shevchenko is the current flyweight champion of the world. 'Bullet' is one of the most loved athletes on the UFC roster. Her dominant displays in the octagon, along with her lively personality, make for a delightful combination. 'Bullet' has been leagues above her competition in the UFC. After securing a win over her opponent, Shevchenko often breaks out her famous dance moves inside the octagon. 
— Valentina Shevchenko (@BulletValentina) June 21, 2021
'Bullet' performs a traditional style of Lezginka which is famous in her home country of Kyrgyzstan. The champion shared a clip a few hours back of her showcasing her dance moves on Twitter. 'Bullet' posted a clip of her dancing to the song 'Good Luck' by 'Broken Bells'. 
Read More:- Khabib Nurmagomedov Says He Feels Uncomfortable Watching Old Press Conferences
What is next for flyweight champion Valentina Shevchenko?
Being an incredibly dominant champion such as Valentina Shevchenko has a fair share of advantages and disadvantages. Since joining the UFC in 2015, 'Bullet' has lost only twice. Both losses have been at the hands of the consensus greatest female fighter of all time in Amanda Nunes. Therefore, Shevchenko makes an excellent case for being one of the best female fighters to have ever stepped foot in a UFC octagon. 
My UFC belt plate update
5th Ruby added!
None stop
#UFC #Champion #TheBullet pic.twitter.com/2C7HK1l0wM
— Valentina Shevchenko (@BulletValentina) June 20, 2021
Since winning the flyweight belt, the younger Shevchenko sister has defended it five times. Three of these defenses have been stoppage wins, the other two have been wide unanimous decision wins. Therefore, it is no surprise that the UFC is finding it difficult to find Shevchenko a worthy opponent. However, given that the UFC is perhaps the most talent stacked MMA organization in the world, there is never a shortage of challenges, especially when you're a champion.
Watch this story:- Top 10 UFC Fighters Who Are Black Belts In Brazilian Jiu-Jitsu
 Lauren Murphy sits at #3 in the flyweight rankings. She extended her win streak to 5-0 at UFC 261 by securing a split decision win over Joanne Calderwood. Therefore, the common consensus is that she will be next for the flyweight queen. Given that both women recently competed, a fight between them would take place at the tail-end of this year.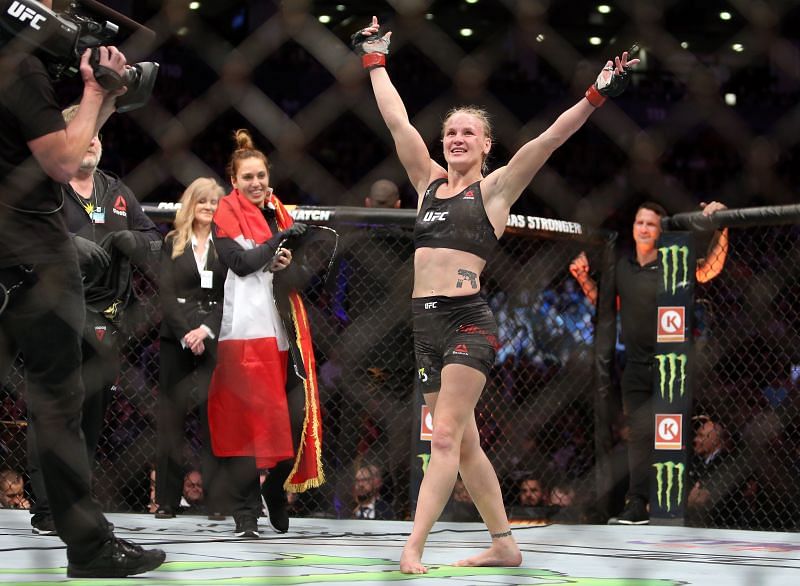 What do you make of Valentina Shevchenko's title reign so far? And who do you think should be next for the flyweight champion? Has she begun practicing her dance for her next celebration in the UFC?
Let us know in the comments below!
The post WATCH: Valentina Shevchenko Shows off Her Insane Dance Skills in a New Video appeared first on EssentiallySports.